Bloom Elixirs Jasmine & Bamboo Curl Nectar
Spend

$ 200.00

to

FREE SHIPPING
Achieve ultra-defined curls with this botanically infused styling potion! Its light, slippery consistency instantly clumps & elongates curls, taming frizz, preventing shrinkage and providing soft, flexible hold.
Silica-rich bamboo extract strengthens the strand, while jasmine flower extract lays the cuticle for brilliant shine. Perfect for twist-outs, wash n' go's and smoothing edges.
Suitable for wavy, curly & coily hair. For best results, pair with a lightweight moisturizer, such as our Jasmine & Bamboo Curl Milk. 
♥ Silicone & Sulfate Free / Curly-Girl Approved
♥ pH Balanced
♥ Color Safe
♥ Cruelty-Free
♥ Vegan
Directions: Apply sparingly to wet hair in sections and distribute evenly with fingers. Leave in and style as usual.
Key Ingredients:
♥ Jasmine Extract - Lays hair cuticle, promoting shine & preventing frizz.
♥ Bamboo Extract - Rich source of silica, which strengthens, repairs and adds elasticity to the strand.
♥ Beet Sugar Extract - A humectant which draws moisture from the environment into hair. Adds body and shine.
♥ Slippery Elm Bark - Provides ample mucilage (slip), which helps detangle, soften and add shine to hair.
♥ Fruit Pectin - Natural gelling agent, tames frizz, defines curls and adds shine.
♥ Xanthan Gum - Natural gelling agent, provides slip & soft hold.
Ingredients: Purified Water, Beet Sugar Extract, Fruit Pectin, Jasmine Extract, Bamboo Extract, Xanthan Gum, Slippery Elm Bark Extract, Phthalate-Free Fragrance, Phenoxyethanol, Benzoic Acid, Dehydroacetic Acid, Citric Acid
View full details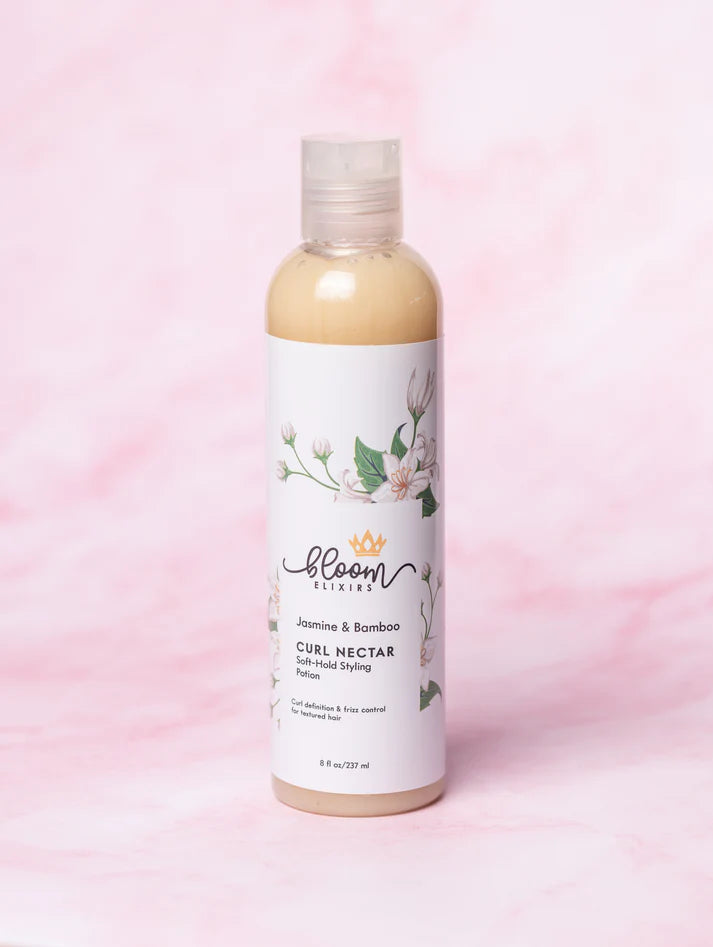 Bloom Elixirs Jasmine & Bamboo Curl Nectar