Bloom Elixirs Rosewater & Aloe Curl Revive
Spend

$ 200.00

to

FREE SHIPPING
Revive your curls and promote softness & shine, with this multi-functional hydrating hair mist! Curl Revive can be used to moisturize, detangle, and prep the hair for styling, or to refresh and re-moisturize hair in between washes. Utilize the power of hair-loving vitamins, herbal extracts and plant oils to soften & nourish hair at any step in your routine!
Perfect for dry, textured, and easily tangled hair.
♥ Silicone & Sulfate Free / Curly-Girl Approved
♥ pH Balanced
♥ Color Safe
♥ Cruelty-Free
♥ Vegan
On damp, freshly washed hair: mist product onto hair, focusing on the ends, as the first step to your styling ritual. Detangle hair as needed. To refresh curls: Lightly mist hair with water, then mist with Curl Revive spray. Gently shake & fluff hair.
Key Ingredients:
♥ Rosewater - Lays hair cuticle, promoting shine & preventing frizz.
♥ Aloe Extract - Rich source of silica, which strengthens, repairs and adds elasticity to the strand.
♥ Slippery Elm Bark - Provides ample mucilage (slip), which helps detangle, soften and add shine to hair.
♥ Avocado Oil - Fully penetrates the hair shaft. Rich in vitamins such as folic acid and magnesium. 
♥ Apricot Kernel Oil - Lightweight oil which partially penetrates and partially coats the strand for moisture retention.
♥ ProVitamin B5 - A humectant which draws moisture from the environment into hair. Adds body and shine.
Ingredients: Purified Water, Rosewater, Organic Aloe Vera Juice, Avocado Oil, Apricot Oil, Provitamin B5, Behentrimonium Methosulfate, Cetearyl Alcohol, Slippery Elm Bark Extract, Essential Oils, Cetrimonium Chloride, Phenoxyethanol, Citric Acid, Potassium Sorbate
View full details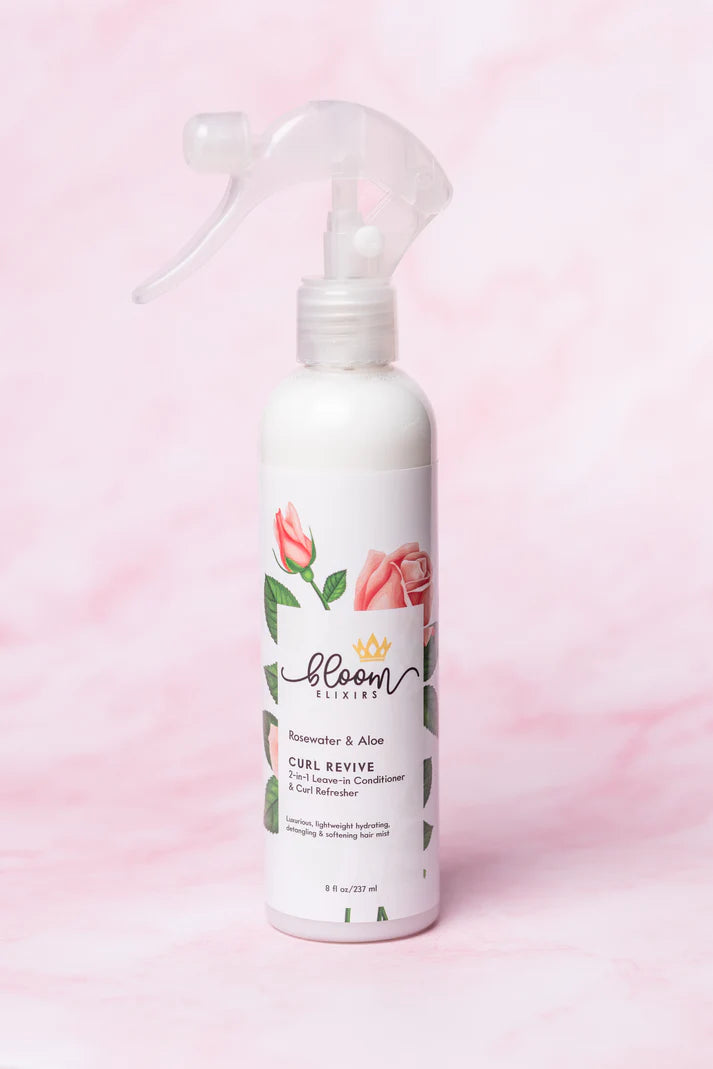 Bloom Elixirs Rosewater & Aloe Curl Revive