Bloom Elixirs Rosewater & Aloe Hydrating Shampoo
Spend

$ 200.00

to

FREE SHIPPING
This gentle, color-safe shampoo is formulated with plant-derived extracts and surfactants to effectively cleanse the hair & scalp without drying or tangling the hair. Its rich lather removes product buildup, leaving hair refreshed and ready to be styled. Enjoy the hair-hydrating and softening effect of aloe, and the uplifting aroma of rose essence!
Perfect for thick, dry, textured hair.
♥ Silicone & Sulfate Free / Curly-Girl Approved
♥ pH Balanced
♥ Color Safe
♥ Cruelty-Free
♥ Vegan
Fully saturate hair with water and massage shampoo into scalp in sections. Work through hair gently with fingers. Rinse thoroughly.
Key Ingredients:
♥ Rosewater - Lays hair cuticle, promoting shine & preventing frizz.
♥ Aloe Extract - Rich source of silica, which strengthens, repairs and adds elasticity to the strand.
♥ ProVitamin B5 - A humectant which draws moisture from the environment into hair. Adds body and shine.
♥ Vegetable Glycerin- Fully penetrates the hair shaft. Rich in vitamins such as folic acid and magnesium. 
♥ Shea Butter - Provides ample mucilage (slip), which helps detangle, soften and add shine to hair.
Ingredients: Purified Water, Rosewater, Organic Aloe Vera Juice, Cocamidopropyl Betaine, Sodium Lauroyl Lactylate, Decyl Glocuside, Shea Butter, Kosher Vegetable Glycerin, DL Panthenol, Essential Oils, Phenoxyethanol, Ethylhexylglycerin, Vitamin E
View full details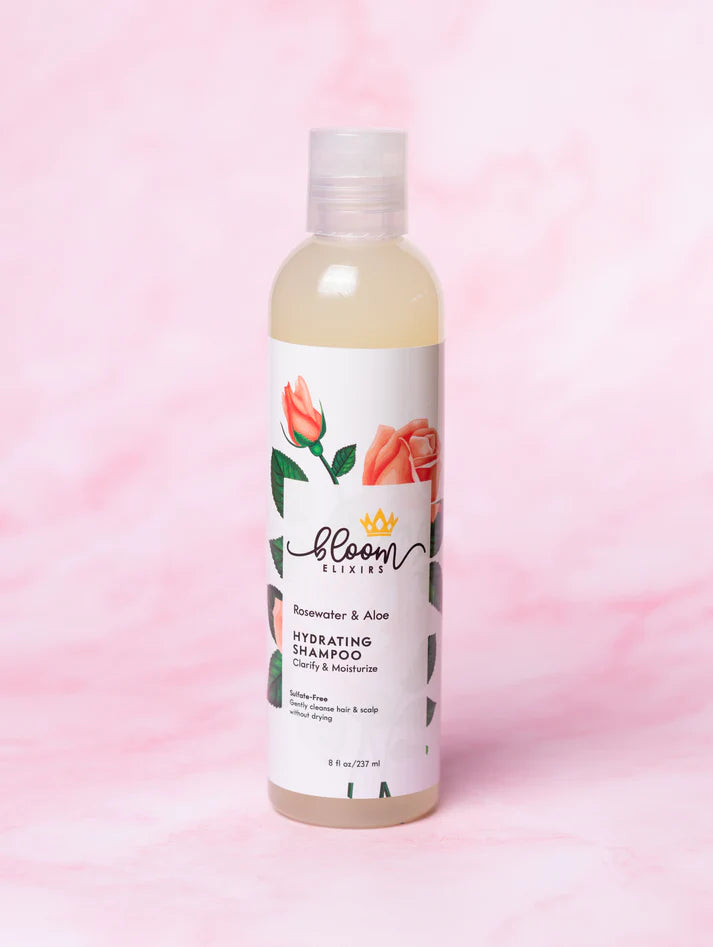 Bloom Elixirs Rosewater & Aloe Hydrating Shampoo